Part 1 - Summer Internship - June 2008
***
Sabien Cunningham, Sr.
is 52,
Nick Michels
is 52,
Trenton VanHouten
is 26, and AV guest,
S'Ahmisa Warwick
is 18.
With nothing to do at the mansion, S'Ahmisa was asked to accompany Mayor Cunningham on a dinner meeting with some members of his Hood Administration. Usually, an intern wouldn't be requested to attend an after-hours meeting like this one, but since S'Ahmisa was staying with the Cunninghams...Sabien felt it was appropriate for her to see how business is conducted outside of the office, in a more intimate setting.
"We're not gonna be long, just a quick dinner to see what they want to talk to me about."
Sabien said to S'Ahmisa while heading outside to the car.
Whatever the meeting was about, S'Ahmisa secretly hoped it wouldn't upset Mayor Cunningham. She had never seen his more vulnerable side until last night. She heard him in his office, late, crying and sniffling; blowing his nose into a tissue....and she immediately wondered if everything was alright with him.
Walking to the car, he seemed tired and agitated.
As they pulled up to the Skyline Lounge, S'Ahmisa was impressed with the odd shape of the fancy restaurant.
Thoughts about his older sons being away from home, kept him in a solemn mood lately.
S'Ahmisa had excused herself to the bathroom, as Sabien found a table for the four of them to dine.
***
As they waited for their dinner, Sabien brought up some interesting questions about S'Ahmisa's platform on custom imports.
***
Sabien groaned loudly, although unintentially. He played it off as if some food went down the wrong way.
Sabien looked at the both of them. He never wanted to raise taxes on his watch. How could he even begin explaining this to his sitizens, the need to do that?! How do you justify it after raising over 3 million simoleans? Sims just aren't going to understand it.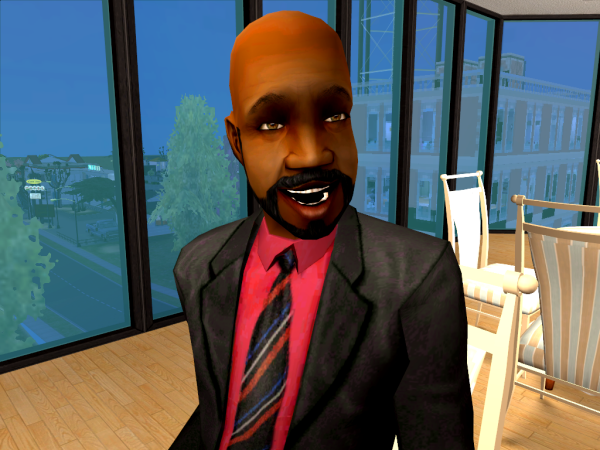 "Only 5%. It's been 10% straight across the board for many years now. I think you've done well to keep your word, even when we were threatened with bankruptcy, you maintained the taxes. Now we're gonna ask those Sims whose networth is over $150,000, to pay 15% in taxes."
Trenton explained.
"Are you sure we're never-ever going to have to go over a 5% increase, ever again, on my watch?"
Sabien asked earnestly. He got nods from both Nick and Trenton.
"Who does this affect?"
Sabien looked at Nick.
"Based on our 2006 Census, only about 4 households...but, as you know, that could change once the final budget is tallied in 2010."
Nick said.
"Makes me wish I paid taxes."
Sabien mumbled; hating to see his hood suffering in any way.
"That would be against the law, sir."
Trenton said sympathetically.
"Alright, well then, this is what we'll do. I hate to do this...let me just go on record saying that. You've got the necessary forms made out already? We've still got plenty of time before the April 2009 taxes are due."
Sabien asked.
"The new
tax forms
have already been sent to us by someone in the Department of City Treasury, in the
City of Laurel Crossing
, where Dimitry Barnes is Mayor."
Trenton responded.
"I know you're worried about your popularity polls, Sabien. But, we'll weather this storm, too..like we always do. It's best to go ahead and get the word out now, so that Sims can be prepared, right Trenton?"
Nick asked.
"Absolutely. I'll send a statement over to The Simmington-Times tomorrow morning."
Trenton smiled, relieved that this meeting was over, and that it went as well as it did.
"Don't mention that 3 million...if they're reminded, sitizens will fly off the handle."
Sabien said nervously.
Turning to Nick, Sabien shook his hand...
"The Hood Administration will meet at City Hall next month in August. We'll touch base on everything then. Goodnight, Nick."
Sabien said, as he and S'Ahmisa left to go home.
"Goodnight, man...take it easy."
Nick smiled and patted Sabien on the shoulder.