Kimberly had grown tired of carrying this baby and being on so-called
bedrest
. It was HOT outside and keeping up with the chores on a farm, is all the
more
aggravating in the heat. She had adamantly insisted Sergio stay home from working the Fresh Market one evening;
Let one of the girls run things for a night!
She wanted to move this pregnancy along.
They had spent most of the evening in bed talking about the store...about the farm...and everything to do with the heat index and its effect on the veggies' growth, despite being cultivated in a greenhouse....
Wheww!
Kimberly was bored of the subject, but let Sergio drag on, as a good wife does, sometimes - I said,
sometimes
. But, she couldn't ignore the fact that it was getting late. She had to turn things up a notch or Sergio would
never
get a clue!
So off came her clothes. And Sergio got the message loud and clear, and followed her lead!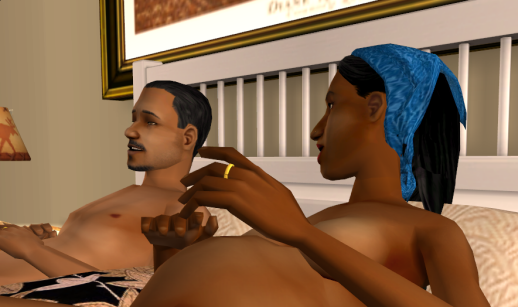 What she wasn't bargaining for was that her hard-working husband had a lot of pent up 'frustrations' that even he didn't realize! He was a beast under the sheets! It turned out to be a nearly 30-minute session! Heyyy...that's a long time for a 52 year-old man, that works as hard as Sergio does! He doesn't get any num-num that often! LOL!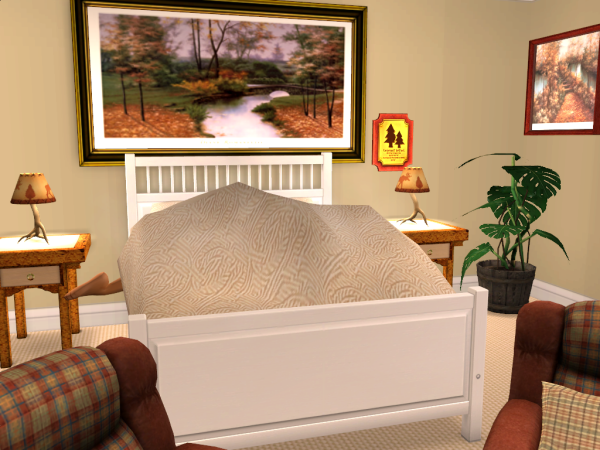 Needless to say, labor started almost immediately...I guess the baby was provoked enough to make its entrance, after all that 'activity'.
Sierra heard Kim's screams and went to call Dr. Dalton around 11:30 p.m., however, the answering service stated the doctor couldn't be reached at that hour, which was unusual. Usually Trinity's on call 24/7. But she had taken this night off to spend with her family.
Both of them were second-guessing their decision to help this baby along, at that point. Why were there no other doctors in Simmington Hills after 26 years? Sergio wondered to himself.
When their son was delivered, Sergio was the first in line to hold his new baby boy.
He couldn't believe that he had come so quickly and easily. If he had known it was that easy, he would've delivered all his kids himself.
When Kimberly started breathing heavily again, Sergio was a bit confused..."What's wrong, Kim?" He asked nervously.
"I think there's another one!" Kimberly said between short, staccato breaths. "O mah shtepue! O mah SHTEPUE!!"
Sergio had never heard her scream like
that
! But he remembered the last time this happened...Kim had done the same thing with the heavy breathing, only when she delivered the baby back then, it didn't live.
(The baby girl disappeared from the UI, actually, and never came back.)
But this time, before any of them could come to grips with the fact that another baby was coming, Kimberly had already popped her out!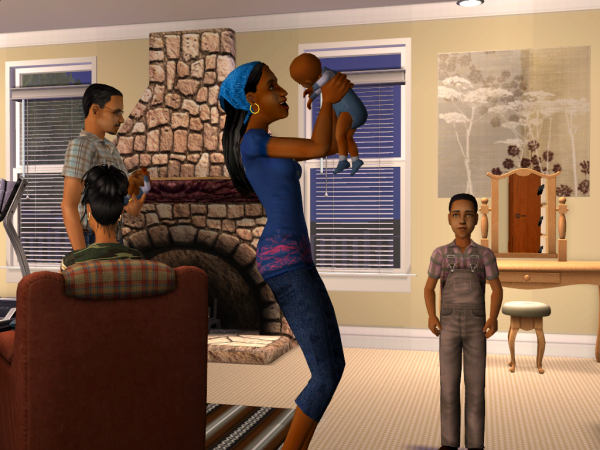 Talk about being
overjoyed
! A little
girl
! Kimberly's been wanting another girl ever since losing Shauna.
(Twins must run in Kim's family, because I didn't do a thing to cause twins.)
Sierra and Shaun expressed their excitement over the two new babies.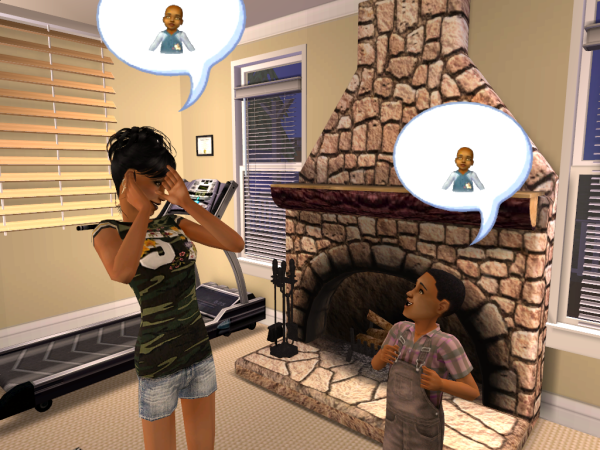 You've probably guessed by now...these twins were born a day apart!
Welcome to the Hills, Samuel King Spencer! Born Saturday, Simday 26, July 2008, at 11:51 p.m.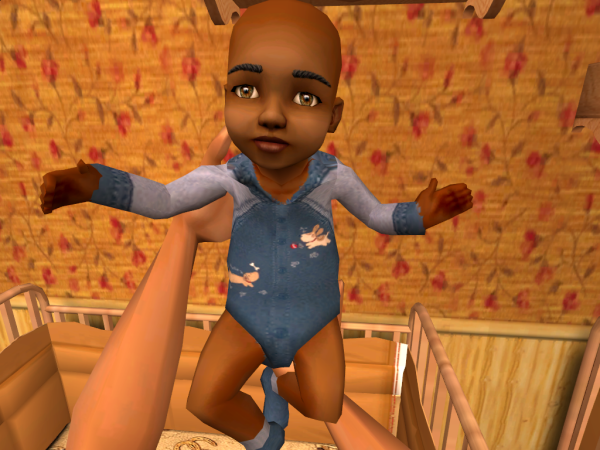 He's got Kimberly's black hair and Sergio's brown eyes.
We also welcome little miss Sophia Melina Spencer! Born Sunday, Simday 26, August 2008, at 12:11 a.m.
She's got
somebody's
brown hair...
huh?!
And Sergio's brown eyes.
(Where did that brown hair come from!? Do Townies have dominant and recessive genes of their own?)
***
Ray Wilsonoff was trying to make Lydia laugh with his, "I'll cater to you" attitude. He was willing to rub her feet, her lower back, wash her hair, whatever she needed during this labor she was going through.
When he bowed to her, well...it turned Lydia off. It made her feel like he was making a mockery of her; that he wasn't being sincere. But Ray was merely trying to bring back memories of their honeymoon in Kimikura.
"Uhhh, I gotta go lie down. 'Scuse me." She said coldly.
Okay, maybe he overdid it just a little. Lydia left to go take a nap while her labor pains were minimal. Dr. Dalton would be coming over in a couple hours to get the delivery going. She had asked Lydia if it was alright to bring S'Ahmisa Warwick with her. S'Ahmisa and Ray are second cousins, for those that don't know. (Ray's paternal grandmother, Alia, and S'Ahmisa's paternal grandmother, Elle, married brothers way back when.)
Lydia's sister Maxine Wise couldn't be there. Maxine was out of town all summer, finishing her college degree and Board certifications; something the Board of Education is enforcing on her because of her role in the private school system. And, she wanted some type of family there, so she agreed for S'Ahmisa to come, as long as the teenager didn't get freaked out. 'Cause that would freak Lydia out.
As Ray greets S'Ahmisa, Trinity tries to explain what's going to happen next. Her labor pains are coming more closer together, and Lydia was sort of panicking and trying to keep it together at the same time.
The main thing Trinity told her to do was breathe through those contractions and focus on something.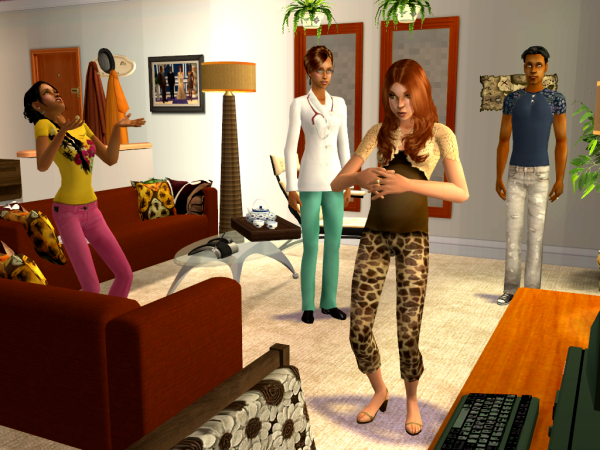 And Lydia was a trooper, never losing her focus for a second...despite S'Ahmisa's screams. LOL! She kept her eyes focused straight ahead and pushed.
When her little girl was born, all Lydia could do was stare at the beautiful baby.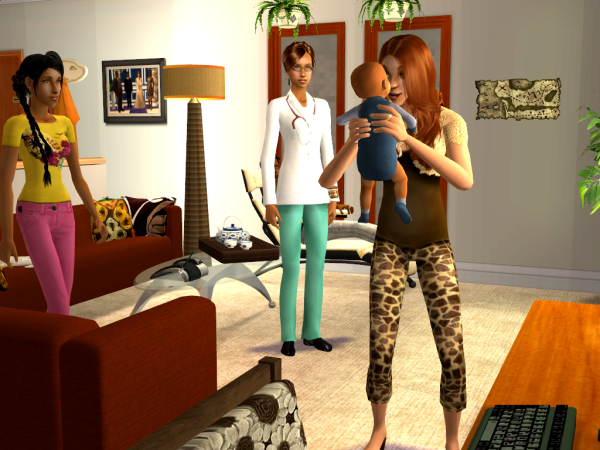 All Ray could do was...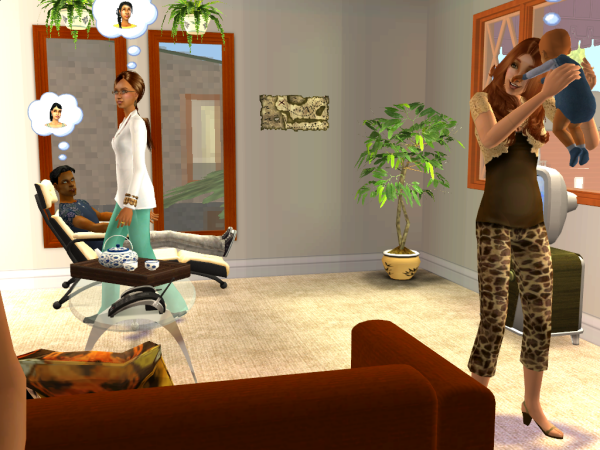 Think of Erline.
Are you kidding me, Ray??!?
I'm sure he's a very proud father of two, now, surely he is...Two girls! In just a few short months, if you think about it! And to show his love and support to Lydia, he did something very special. He named their little girl's first name after his beloved grandmother, rest her soul.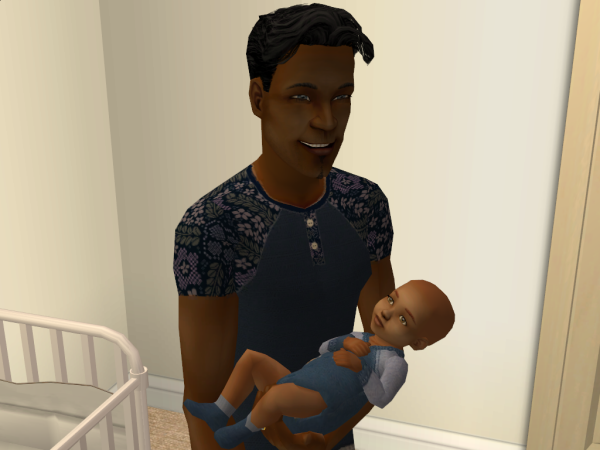 Welcome to the Hills! Alia Shae Wilsonoff! Born Monday, Simday 26, August 2008, at 4:24 p.m.
She's got Lydia's red hair and brown eyes, and a
medium skintone
...to my delightful surprise!!
(I love those Maxis In Between Skintones by JoyLyn, at N99 Forum, for this very reason...they're genetic.)
Lydia promised little Alia she'd do everything in her power to be the best Mom she could be. Even though things seemed a bit bleak at the moment..."Don't you worry, Alia. I'm going to give you the world." She said as tears rolled down her face.
Lydia had refused Ray's request for a babyshower, thinking it would be too awkward to have Sims over; asking her questions about Erline and her baby, Emilene...she just didn't want to go through that. Ray had wanted his sister Rebecca and cousin Fiona to come and celebrate with them...but all Lydia could do was look around their apartment and see how much 'Becks and Fiona have already done for them. It seemed like they couldn't do for themselves, and Lydia hated that. And, she hated Ray for ruining all her expectations. Not to mention Rebecca and Julio's health troubles with little Ana Rayne...they couldn't leave their baby to come here.
Ray came in and saw Lydia crying. He looked around and noticed how empty the room was.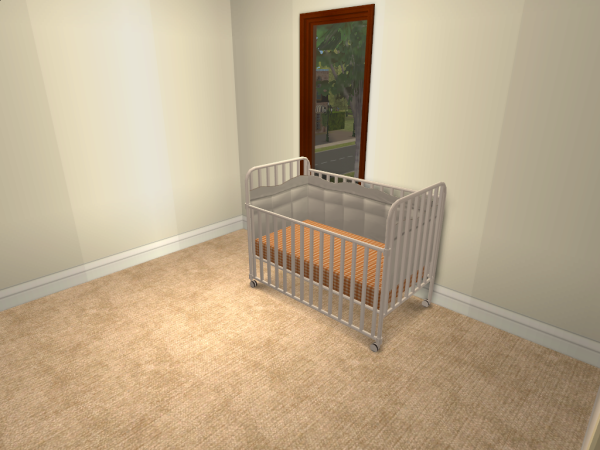 He promised them both that he'll break his back if he has to, to get more money so that Alia will have the nursery she needs. Lydia's tired of hearing his empty promises.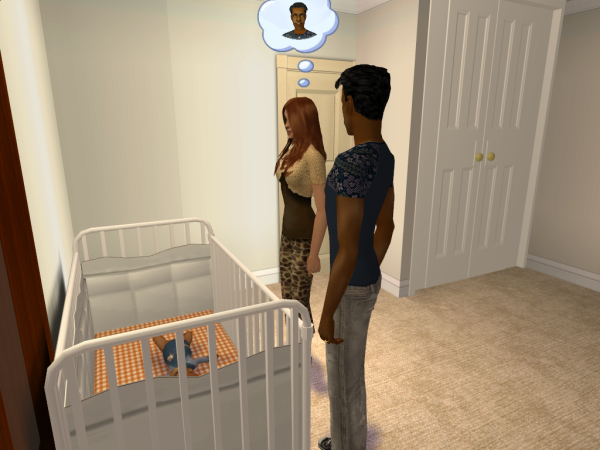 ***
The babies have the same onesie on because I was too lazy to get out of the game, change defaults and wait to load the game up again just to play Ray and Lydia's birth event. I was already in, and both families like the same/similar colors...so hey. *smiles*
Not trying to garner sympathy for them or nothing...heh. But, Lydia and Ray have got a little over $385 bucks to their name! They bought that crib but can't afford anything else. Poor couple. The good news is, they'll have another tax deduction come next year! LOL! I'm seriously gonna have to get Ray back into his bakery. I haven't played Saint Rose's Bakery since I started this hood over. *covers eyes* Maybe he'll start bringing some good money home with those perks!
Random Shot:
Look who decided to walk by the apartment just after I took that last photo of Ray and Lydia in the nursery, above...Lydia had just walked into the livingroom to answer the phone, and I happened to look outside.....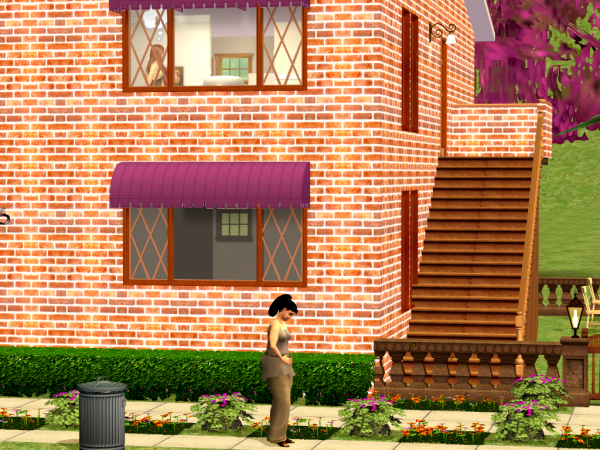 Can you believe that?!! Ray must've truly 'thunk' her up! LOL!
Sometimes this game loves to crack it's own jokes, doesn't it?! I had to laugh. My mind started racing...what if I had her ring the doorbell?! LMAO! Nahh, but I didn't. She walked on home.
***
This just in! SimFedXPress delivered the following:
C/O Lydia, Ray and Alia Wilsonoff
‏
| | |
| --- | --- |
| From: | Apple Valley |
| Sent: | Thu 5/20/10 |
| To: | Simmington Hills, Willow County |