Sabien, Sr.
is 52,
Tomika
is 52,
Rashid
is 18, and AV guest,
S'Ahmisa Warwick
, is 18.
Summer Internship - Part 2 - July 2008
Summer Internship - Part 3 - August 2008
It was the 2nd week of June, and quite a cool, crisp day for summer time...it felt more like spring time outside. Sabien watched as the beautiful girl descended the stairs in full Kimikurian dress. He was thrilled to be hosting his first summer internship with such a gifted student.
As S'Ahmisa stepped off the airplane, she remained very enthusiastic about her 3-month stay in Simmington Hills. Although the realization of being away from her family swiftly came over her just as the cool breeze blew onto her face. This was not another family trip. She was visiting another SUN hood all by herself.
Mayor Cunningham, I'd like to give you this gift from
Kimikura
on behalf of my parents, Sazo and Sandy Warwick, we think you'll like it alot."
S'Ahmisa nervously handed Sabien the heavy gift.
"Well, thank you, S'Ahmisa! I'm sure me and my wife will enjoy it very much. Thank your parents for me. I can't wait to see what it is!"
Sabien smiled.
"Aren't you going to open it?"
S'Ahmisa smiled anxiously.
"Sure, I can open it now..."
Sabien fumbled with the paper and the pretty red ribbon.
"It's a gold-plated Kimikurian Tea Set. The kind they use in the old temples."
S'Ahmisa smiled.
"There's dry tea bags in there also, to revitalize your senses and make you feel refreshed and energetic."
"Oh wow! How beautiful!"
Sabien exclaimed. He had a luggage handler place the gift in the car, and turned back to S'Ahmisa.
S'Ahmisa couldn't help but think of Rashid, while Tomika talked. She wasn't expecting him to be so handsome in person. Even though it seemed she had more in common with Marchon, Rashid seemed like such a free spirit, the same freedom she was feeling since she'd arrived - just plain old, free. Away from home and in a new place.
Without waiting for Tomika's response, S'Ahmisa changed her tone.
Since she'd returned to the mansion from Bluewater, the place was filled with heavy running footsteps as the boys chased each other. 3 year old Scot ran after his brothers trying to keep up with them; plenty of jokes filled the air, loud bursts of laughter and screams as Sabien, Sr. wrestled Rashid to the ground; banging drum beats and bass licks were booming from the stereo, thanks to SayJ creating music on his synthesizer, non-stop. Rapping to his heart's content, and leaving it pumping at full blast to go mess with Rashid and his Daddy.
S'Ahmisa was totally not used to a house with a bunch of boys in it.
"So how you doin?"
Rashid licked his lips, slowly like LL Sim J, as he looked over at this pretty girl. She looked so much more casual and comfortable than when he'd seen her earlier in her Asian outfit. They were upstairs alone in the attic, which had been transformed by his Dad into the TV room.
He was trying hard to mask the jitters he was feeling, but he really wanted to impress her. This girl was much more intelligent than he was...what the hell could he talk about with her?
When she left to go use the bathroom, Rashid didn't know whether it was more gentlemanly to stay put, stand up, or escort her downstairs himself.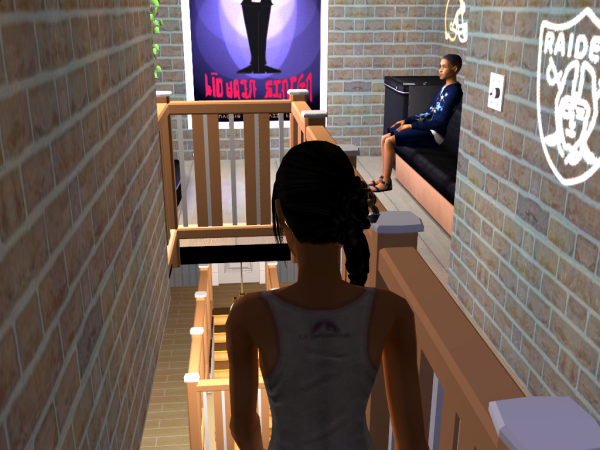 She was surprised to see him - right there - by the door. And what happened next was out of character for her, but the wholetime she was in the bathroom, she was telling herself to just go for it...just do it, like S'Nike says, Just DO IT.
S'Ahmisa went into the kitchen; the Butler was gone for the night, so she fixed herself a quick pizza pocket. The house was quiet. She didn't know where Sabien and Tomika were, and obviously Scot and SayJ had gone to bed. It was midnight. She knew better than to be eating at this time of night, but for the first time, she felt alone. She missed her family.
After a shower and change into her PJs, S'Ahmisa left the bathroom to make her way into Marchon's old bedroom. Rashid was once again, standing outside the bathroom door.
S'Ahmisa lets out a huge sigh of relief, and is quite bewildered by her own reaction.
Rashid let it go. He was hoping they could try that kiss again...but S'Ahmisa said goodnight and turned away.
It was something S'Ahmisa didn't really feel comfortable doing, but she had no choice, unless she was willing to mope around the house all day.
She looked radiant, Rashid thought. Her hair looked wild, though...all black, thick and frizzie-curly, and he wondered if she had combed it yet, but that was no big deal...he wanted another chance with her.
S'Ahmisa wished she had brought her sunglasses...Rashid's car was giving her a migraine.
They ended up going to SimCity, the downtown area of Simmington Hills. The time flew by as these two got to know each other. Any embarassment from last night had disappeared.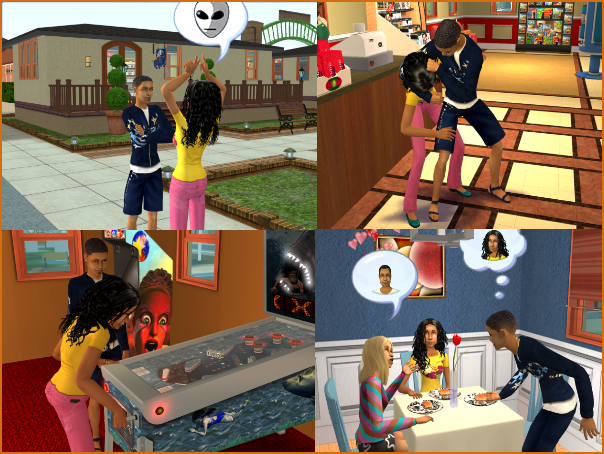 S'Ahmisa loved to watch him walk. He's got this kooky way he cocks his head as he's walking, kinda like Simarack Obama.
She's not even thinking about Verde today. It's all about Rashid...one thought after another.
At first Tyisha was happy to see Rashid, but then she saw S'Ahmisa come through the doors behind him.
He hugged Uncle Cam as Tyisha turned her back towards him.
"This is S'Ahmisa Warwick from Apple Valley. She's interning with my Dad this summer."
He went on to explain.
To break the tension, Rashid grabs S'Ahmisa in a playful headlock...hoping Tyisha would get the message that they're just friends and to knock it off.
S'Ahmisa walked off to do some research as Tyisha broke up with Rashid.
For Rashid, it was as if nothing happened. He caught up with S'Ahmisa on the back balcony upstairs, grilling up some plump and juicy hotdogs.
They ate and watched a movie.
The end.
***
In real time, I'm not sure when my next update will be. I have surgery coming up in a few days...lots of recovery time will be needed. It depends on how I'll be feeling. Ya'll keep me in your prayers.