Rashid Cunningham
and
Elmer Valdes
are both 19.
Not much has changed at Sims State University since the Founders were here many years ago. That goes for the Landgraab Dorms, as well. It's still the same old boring place.
Rashid made sure to grab the room that his Mom told him to get...it was her old room; right next to the exit/entrance doors.
"You can see who's coming and going..."
She said.
And neither of the boys brought much stuff from home. They preferred to get their
own
stuff as time went on. Rashid brought his clothes and his new laptop computer from
Fiona Kent
. He needed it to link up with the college's website and email system for access to class assignments and notes from his professors.
He sat there for a moment, whistling a tune, while he tried to think of which video game he wanted to play. Classes wouldn't start until tomorrow. He felt free and in control of his own destiny...like a true
adult
with no one breathing down his neck to do something productive.
good
.
Too bad the study session didn't last long, he really didn't understand what the heck he was reading. He just wants to study art, forget all this other logical, mumbo-jumbo, stuff.
He smelled the buttery-sweet pancakes and syrup from the cafeteria and excused himself to go grab a plate...
"That place delivers...all you gotta do is call 'em."
Elmer responded.
"How you gonna fit a double bed into your room, anyways?"
"I'll do what I have to do....and you gon' help me. I can't stand sleeping on a twin bed anymore, man...I've done it all my life and I need to be able stretch out. Plus, what if we meet some girls?"
Rashid smiled as he sat down.
"I'm not trying to date anybody but Sierra, dude."
Elmer smiled back at him.
"All I'm here to do is go to class."
"Yeahhh...right. Okay. If you say so...Well, you gon' need a double for Sierra, right? Riighht?!"
Rashid eats like he hasn't had a meal in awhile, while Elmer realizes for the first time that he could actually
hook up
with Sierra now, without any interruptions...he gets up to go make the call to the furniture store.
Rashid laughed as his childhood friend 'walked-ran' to the phone to order two double beds for their rooms.
***
Rashid has always been a little jealous of Elmer and Sierra's relationship. She wasn't but a year older than Tyisha and yet her father lets her go out with Elmer with no objections.
Yeah, sure...the guy is a virgin, but it's not like I'M a player or anything...I've only been with one Sim!
He thinks to himself.
Poor Rashid...his love life is a 'blank' right now. He's all over the map as far as his feelings go, so he dances it out, while he thinks things over.
dissed
him. After the AB concert, she didn't have much to do with him at all; choosing to play with SayJ and Scot most of the time. She confessed her love for
Trevor Yates
, and that was that. He thought maybe she would be sad he was leaving, but when the day came, she just hugged him and said,
"Bye."
He's been feeling kinda homesick, but he's only an hour away. He wanted to talk to
somebody
from home; didn't matter who it was, so he called them all...that didn't matter either, because no one seemed to miss Rashid quite as much as he was missing them.
-and-
Pretty soon his hip hop dancing incited a small party in the cafeteria. It took his mind off things.
He's a great dancer, actually...to my surprise! I'm like...'When did he learn how to do all that?!' LOL! He was jammin!!
He thought S'Ahmisa may have had a change of heart when she up and called one day, out the blue.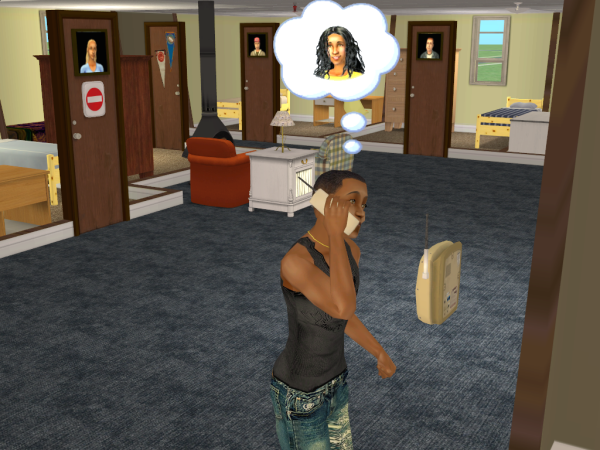 His jaw almost hit the floor.
- Or maybe she's just trying to make him jealous and he'll hear from her soon.
But, the calls didn't stop...She KEPT calling Elmer.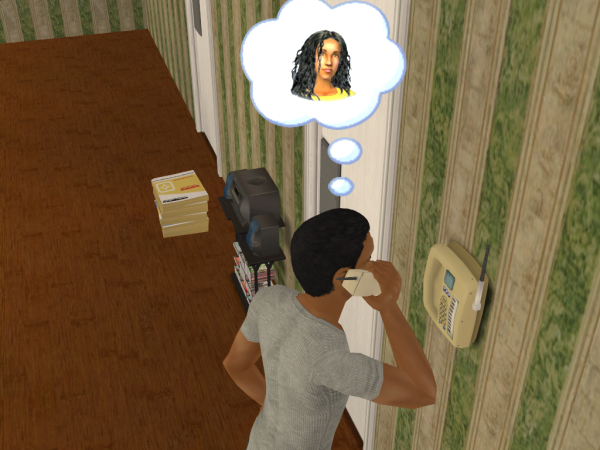 Rashid had had enough...he was getting frustrated. But, he wasn't the only one...
The next time the phone rang, Rashid just hung up....
***
Rashid, (Majoring in Physics) finished with a B+
Elmer, (Majoring in Art) finished with an A-
***