***
Last Monday night, Sabien thought it was cute and he smiled as he watched his son snoring lightly.
***
But now it's Friday, and it's not so cute anymore. Sabien got him up and told him to go spend some time with his brother,
Scot
. So SayJ followed his Dad into his home office where 4-year old Scot was playing.
"Ewww! Your eyes look like ALIEN eyes, SayJaayyy!"
Scot laughed loudly.
"They're all red and green like a monster's face! You're from planet Wonka and I'm gonna terminate you with my Terzon Lazer Beam!"
Hoping he would make SayJ chase him around the house like the boys used to do, Scot got startled when SayJ yelled at him, cause he had never done that before...not like
this
.
"NO they don't! Leave me ALONE, Scottie!"
SayJ protested. He didn't need a mirror to see that the whites around his eyes were bloodshot, and having those green pupils just made it all the more horrifying.
Sabien listened to the boys, concerned but quiet. He tried to gather his books and notes for tomorrow's Council meeting and softly said,
"SayJ was asleep Scot, I just woke him up. Now, leave him alone. Why don't you guys play nice, alright?"
"Uh Ohhhh...Daddy, SayJ's been cryin'!"
Scot pointed to the dried up tears on SayJ's face, as SayJ tried to wipe them away as fast as he could, but the crusty tears need water to wipe off.
Sabien turned to look at him and called him over.
"Come here, son...let me talk to you."
The sound of his Dad's voice and his simple request was enough to make SayJ's water works start all over again.
"What's wrong? Why are you crying?"
Sabien asked.
"I want Marchon and Rashid to come home, NOW, Daddy."
SayJ pointed his hand down to the ground and stomped his foot as if stomping his foot would force Daddy to jump into action right away. He wiped some of the tears away with his arm.
He tucked SayJ in and kissed him goodnight, confident that his son would feel fine tomorrow.
The next morning, the first thing Sabien did was check on SayJ. And sure enough, the boy was bright-eyed and bushy-tailed! Feeling much better because Daddy had dropped everything to spend some time with him, and that's really all he needed.
As Vasyl served up a light, summer dish of toasted garlic bread with a topping of egg and tomato relish, the family gathered around the table to enjoy their last breakfast with S'Ahmisa. She's leaving to go back to
Apple Valley
today, and it's her last day on the job.
They've been chatting on the computer for the last couple weeks. She had to do something,
the boy had hung up the phone in her face!
Okay, so it's the truth, she'd been trying to get back at Rashid by calling Elmer Valdes; it was silly, and she usually doesn't act this way, but she only did it because he got so mad at her for
pining over Trevor Yates of Aerial Bionic
...like a hookup like
that
could ever happen!
A few days after the concert, she told Rashid she's not trying to be anyone's girlfriend right now, but if she
could
...she would be Trevor's. Shoot, the guy's a terrific musician!
Pfft!
She thought.
He still didn't have to get so mad
.
Anyhow, Rashid's supposed to be coming to Apple Valley for her Spring Break vacation.
I hope he doesn't come with an attitude.
And with that thought, she sat down and engaged in pleasant conversation with her 'Hills family', as she affectionately calls them.
***
Later that morning, at the Hood Council Meeting in City Hall:
"I'd like to open up."
Sabien stated firmly, to get everyone's attention.
"I thank you all for being here. S'Ahmisa is going to take the minutes for this meeting today. I need some suggestions from you in how we can increase our hood's income."
He made no bones about it, and jumped right into the business-at-hand.
"As you are aware by now, we are increasing taxes on the rich. The problem with that is..we don't have a lot of rich taxpayers in our hood."
Sabien chuckled softly.
"That's also the reason why we didn't get many complaints over it."
"While you guys think it over, I have another SUN Hood event in mind that I want to discuss. Hopefully it will be as large as the Silent Art Auction was, but I'm hoping it will be larger...it could be another Founder's Day event for this December. We could have a Single's Auction to raise simoleans for our Hood!
Sims would send in their bids to spend time with a single and available Sim, male or female, and have a date with them! Any single Sim from around SimNation could participate and send in their headshot pics with a little bio on themselves, who they are, where they live, what they do for a living, etc.
We'd post these bios and headshots up on our journal and Sim's could email us their bids with the name of the Sim they're bidding on, that way it's private...and the highest bidder would get a date with their chosen Sim! All the participants can be aged Teen to Elder....or, Young Adult to Elder. What do you guys think?
What's even more exciting is, the participants get to report on the date in their own journal blog or website. You never know who'll find love! We have those VanHouten brothers and..uhhhhh...Seth Guthrie is single...and Anthony Bachelor...
Sabien's voice trails off as he gets caught up in his own thoughts.
"Don't forget Rashid..."
Somebody said, laughing. Sabien and Tomika ignored it.
"Is this even legal?"
Honey Michels says, scrunching her face up.
"It's like you're 'buying' somebody and last I checked, it was illegal to buy a date. That's called somethin' else, I think..."
Tomika felt that Honey was being a little too
sensitive
or
dramatic
about Sabien's intentions. She's a Romance Sim, seems like she'd think the idea was fantastic...but the whole point is to raise money for the Hood.
"I have to agree with Honey. I'm not sure this is the right direction to take."
Sergio commented.
"We're not asking Sims to hook up, although if they choose to, then that's their business!"
Tomika stated.
"Nawww, it's not like that, Honey and Sergio. Sims are just going to meet each other."
..Everyone else piped in all at once, behind Tomika's statement.
"Well, perhaps making simoleans in this way IS blurring the lines a bit between paying to sleep with a Sim, and giving Sims the opportunity to just meet and greet. I don't know. But we can't fool each other...the need for more simoleans into this hood is much more greater than this issue; this is a golden opportunity to make a lot of money!"
Trinity argued.
"Whatever the case, we can't be judge and jury over another Sim's morality. We've got to decide on a peaceful solution."
Nick said, in a rather laid-back defense of the idea, while looking straight at Trinity.
"I don't see why we never vote to just stop taking an Administrative salary...it's not like we need the money."
A tiny voice from the corner of the room, suggested.
"Emerita, have you lost your damn mind?!!"
Honey spatted out, as Trinity grabs hold of her arm, politely, to
shush
her up
. "Speak for yourself Miss Motor Company, everybody ain't got it like you."
Honey snapped, despite Trin's efforts.
"Well, you're a successful actress, Honey. You used to play pro ball, too. I think if any one of us is reaping in simoleans, it's got to be you!"
Emerita upset at how some Sims like to play the 'poverty' card when she knows better.
"SHUT UP!! Shut it UP!" Sabien yelled. "I'm tired of all this fighting! Where's the peace? Where's the love?"
He asked.
"Simyear after simyear, somebody's getting into it with somebody, over somethin'...I'm tired of it!! I've HAD IT!"...
"I'm stepping down...I'm taking me and my wife away from here!"
"Whaaat??!!"
Everyone stared in disbelief at what he just said.
Tomika started to clap her hands in sheer joy, but looking around the hostile room, she decided against it.
Whatchoo talkin' bout, Willis?
Cameron looked to be saying...wondering what just happened!?
S'Ahmisa's little fingers could barely keep up with all the drama, she was almost trembling!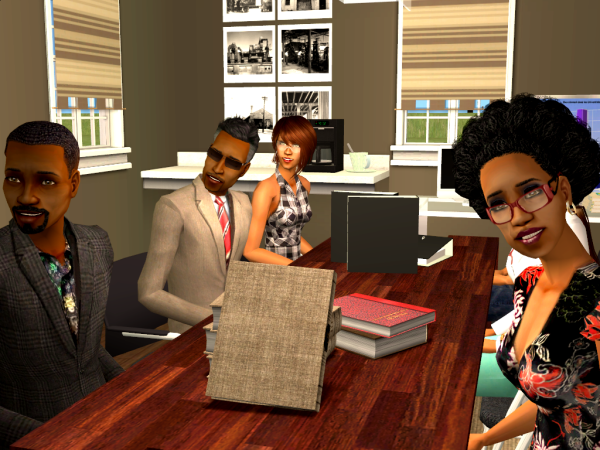 "Babe, if I may...I just want to ask S'Ahmisa to come stand here."
Tomika interrupted before everyone started leaving.
"We'd all like to thank you for doing such a great job for us this summer. You've been a pleasure and a joy to me, as well as to everyone in this office."
Tomika smiled as her eyes welled with tears.
"And I'm going to miss you tremendously!"
Honey had immediately left to go splash some cold water on her face. The meeting had left her with a headache. Emerita would've apologized to her on the spot, had she not left.
"I appreciate it, guys." Sabien smiled. And they all filed out of City Hall to go about the rest of their day.
Sabien and Tomika whisked S'Ahmisa off to the airport to catch her flight back home.
Tomika races upstairs first. She gets cozy on the bed, waiting for Sabien to get in there, and instead of him going to his side, he goes over to her side of the bed and looks at her! So instead of going back around to the other side, like I thought he was going to do...he steps outside onto the balcony!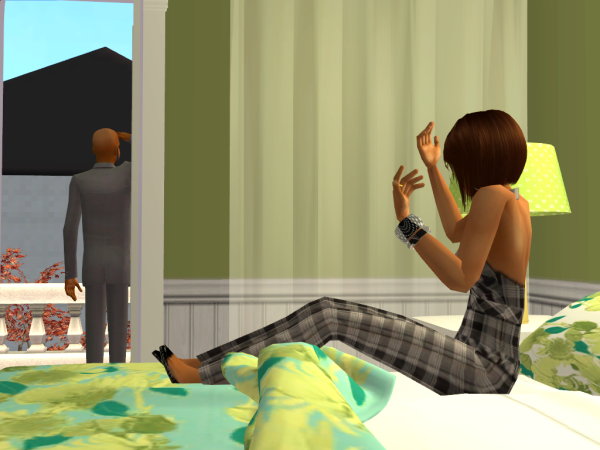 So as he's standing out there, breathing in the nice summer breeze, like an idiot; he's obviously changed his mind about the whole thing.
She slowly gets up and looks really disappointed...she must've really wanted that nookie. LOL!