Anthony
is 42,
Nedra
is 35,
Kendra
is 12, and
Kent
is 4. Skittles is their female kitten. :P
The move came with much excitement when Anthony found out he was to be stationed in Simmington Hills. You see, he already knew someone living here. A Sim he hasn't seen in over 27 years.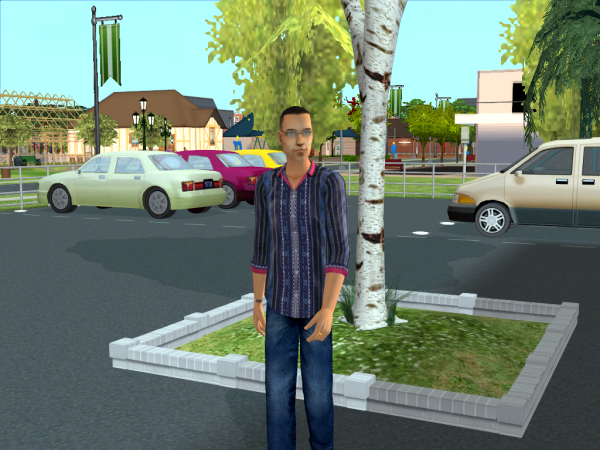 Edward never stood up for himself so he was an easy target. He had no brothers and sisters to take up for him either, so he would withdraw into his schoolwork or pray to disappear. If he could've blended into the walls, he would have. However, one day Anthony found out that Edward didn't have a father...just like him. He felt sorry for the husky guy and turned his friends away from bullying Edward anymore. Anthony would've apologized to Edward, if he had allowed it. Every time Ed would see Anthony approaching by himself, he would run the other way. Pretty soon Edward graduated and it was years later when Anthony found out what had become of him, when he saw a write-up in the hometown paper about his car dealership success in Simmington Hills.
Anthony understood Ed's bitterness and explained everything to him; the military stationing him here and how sorry he was for the past, how he had always wanted a friendship with Ed, and how proud he was of him. He told him he hoped they would become friends.
Ed surprised him with what he said next...
Truth be told, Edward felt relieved and glad to have a friend from his old hometown in Simmington Hills, and he looked forward to building a great friendship with Anthony.
***
Back at the house, Nedra Bachelor greeted two of her regular clients. Nedra is a self-proclaimed psychic and works as a Conspiracy Theorist for Simcity Psychic Organization. She gives palm readings and sage advice to anyone who needs it.
Chance Blair
is a regular who drops by every other day seeking help for his lack of ambition, his weight gain issues, and bouts of depression. Nedra is trying to help him with his direction in life and with his neurotic mood swings.
He's a lost soul.
Nedra thinks to herself as she gives him a once-over. Chance has gained weight in the 3 months
since we last saw him
. He hates feeling like a loser in life, so he's
trying
to better himself.
Keith Dalton
is another client who loves to get his palms read for predictions about
SimCity Furniture
like...he wants to know if he'll reach a million simoleans in furniture sales in his lifetime. He gets sports forecasts too, like...if his favorite sports team will win their game, stuff like that. Nedra thinks he bets on games according to what she tells him.
So I ponder the question, is she for real? Or is she just taking these Sims hard-earned simoleans and going to the bank?
The Valdes are both intrigued with Nedra's occupation and talk about 'special awareness' for most of the afternoon into the evening.
During lunch, Ed recounts he and Anthony's past with Emerita and Nedra, and shares his tremendous appreciation for Anthony's willingness to apologize.
He's so over the top in his emotions, that he serenades Emerita out of the blue. Emerita's been yearning for PDA (public displays of affection) from Edward for the longest time. It felt really good.
Everyone chuckled.
That night Kent begged his Mom not to leave before he woke up the next day, like she usually does on these trips out of town. He wanted her to wait until Daddy got home from work.
Kendra and Kent always dreaded when their mother had to go on trips. It meant that Kendra was in charge and her brother seemed to act the worst because Mom was gone. A good noogie always seemed to set him straight 'cause he hated those.
Kendra'd rather spend time in her room dancing to the pop station on her radio than watching her little brother.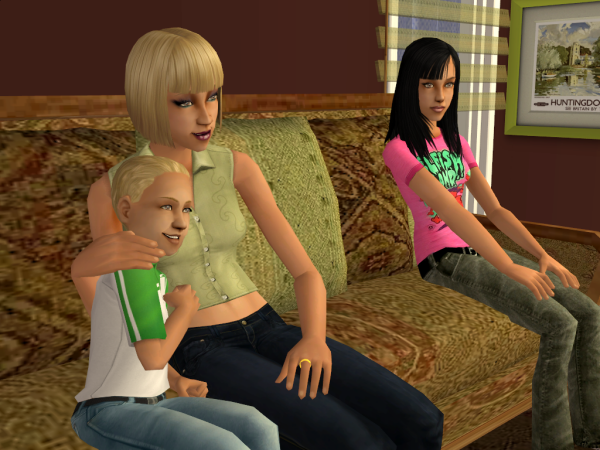 "I want you guys to try to get along better with each other, that's all. I'll be quiet, Miss Kendra."
Nedra smiled.
When Anthony got home, he was surprised his wife had waited on him.
"You're still here?"
He smilingly asked.
"Yeah, I need you to help me fasten my suitcase."
Nedra chuckled as if that was the only reason why.
"I'm glad I got the chance to send you off in style, you know what I mean?"
Anthony whispered. He loved looking into his wife's beautifully strange eyes. Alien eyes...he affectionately called them.
"Speaking of...I really need to be going."
After her shower and a quick run down of everything she might have forgotten to pack, Nedra kissed Anthony goodbye.
"See you in a few days."
She pouted as the taxi blew its horn outside.
***
The damage to the hood and to Sim's personal properties was minimal compared to what Anthony was about to find out.
He was at work when he received a call from the Psychic Organization's conference leader.
The call changed he and his kids' lives forever.
Nedra was really gone.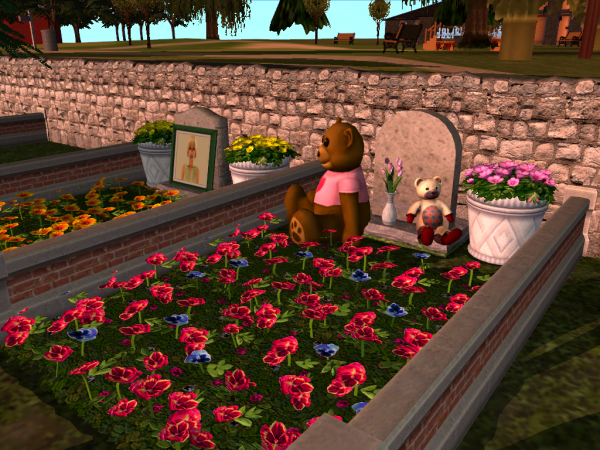 ***
General Bruce Peterson seemed really disturbed at the cemetery. He went from grave to grave...just standing there, zombie-like. It was really strange, but oh-so-fitting, in my opinion.
Random Pics:
Here he is at Asya Rasmussen's grave. (She's not really there anymore, because of the hurricane devastation...new game/sims.) But, it seems as if he's thinking about his young recruit Sierra Spencer and what she told them about her mother.
Stranger than that...Anthony sees a pretty woman who happened to stop by to pay her condolences; probably somebody Nedra knew from work

*wink*

...considering the way she's dressed. And he's thinking about getting to know her, heart-farting for her...not two feet from his wife's grave! Even Kendra's excited to meet her!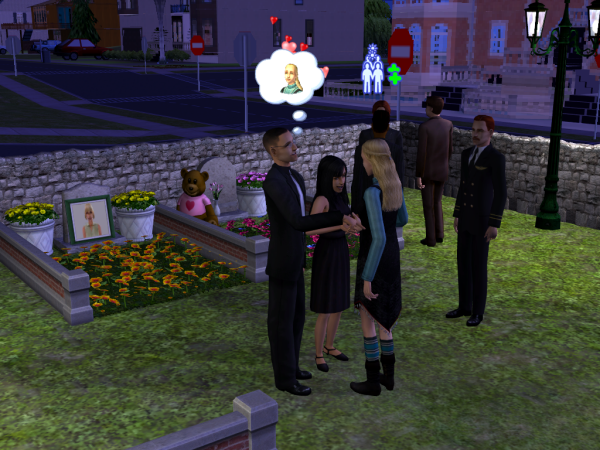 In his defense, I see he wants to fall in love...or maybe he wants a love one day, just like the love he shared with Nedra.