Kofi Raphael
is 35,
Amara Raphael
is 34,
Chima Raphael
is 8, and
Ashanti Raphael
is 4. Doogie is their male puppy.
(This family portrait was taken when they moved in, before Ashanti transitioned into a child at the end of their rotation.)
Kofi and his wife, Amara, have traveled many miles from CapeSim Town, South Africa; fleeing from a terrible flu epidemic that left them and many of their family and friends with a benign skin pigment disorder. It's neither life-threatening or contagious, but if medical care is prolonged, the condition can spread throughout the whole surface of a Sim's body. They needed to leave South Africa quickly to find a good doctor in the SimStates that was properly trained in treating the dry-itchy patches this disorder causes.
***
Kofi and Amara already have college degrees from the University of CapeSim Town. Kofi's degree is in Mathematics. He was an architectural engineer for a successful firm until contract negotiations fell through and he lost his job. Amara, a former jazz singer and Art graduate, taught music at the prestigious CapeSim Town International School. It was a struggle being the only breadwinner in the house and when the flu epidemic hit, Kofi and Amara were afraid they'd lose everything.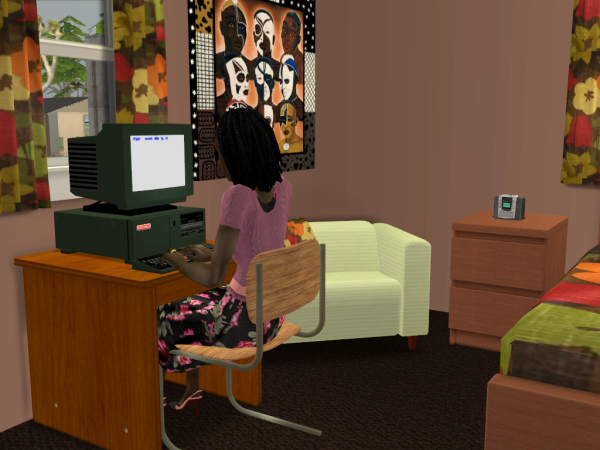 What was difficult was trying to get through a term paper without being interrupted by little Ashanti.
Amara found work as a File Clerk in a SimCity law office, but can't get a Level 3 (Legal Secretary) promotion until she obtains a certain amount of hours towards a law degree. (Basically, 4 term papers completed.) After that, she can't gain a Level 4 position (Legal Biller) until she's completed 7 term papers; half the requirement for her law degree. Long story, short...If she ever wants to make any real money and not be a Law Firm Receptionist for the rest of her life, she's gonna need that degree.
***
There is another Alpine Village 2 Trailer Homes park next door, but it looks different. A little nicer and more expensive, but it doesn't matter. The whole area is surrounded by the stench of trash and junky looking buildings, a drug house and a liquor store/bus stop, that the winos and gearheads hang out at.
The trailer they chose has 2 bedrooms and 1 bath; pretty cramped but very long, from one end to the other. Chima has his bed out in the hallway, just outside the door from his rambunctious sister's nursery and from his parents bedroom. The curtains can be pulled for privacy. Amara hung them because Chima's afraid someone is gonna come through the front door and get him at night. It's not a wall, but hey...you gotta work with what you have. At least it makes him feel safer.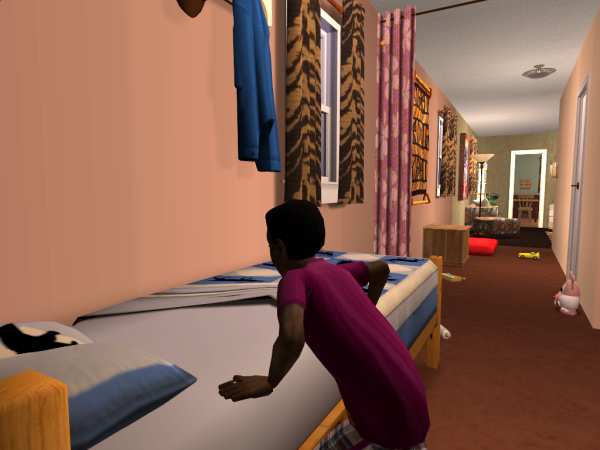 Between all the potty training, the 'peek-a-boos', the endless filing papers at her job, cooking dinner, helping Chima get into a hot bathtub (he's afraid his skin is gonna burn), and trying to get her 1st college term paper finished, some days Amara can't tell which way is up.
***
After dropping another bowl on the floor and breaking it in front of his wife, Kofi voluntarily cleans up the whole kitchen. He's always breaking something so the least he could do was train the puppy to use the bathroom outside, before he went to bed.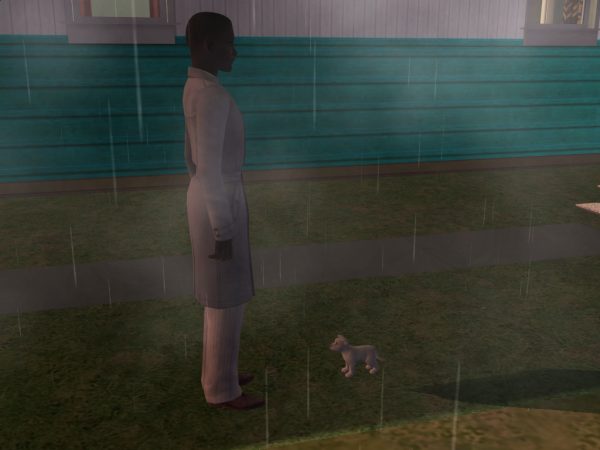 Kofi ran for cover from the cold rain, back into the house and never noticed the puppy, close on his heels, had ran back inside with him. He fell asleep in the chair as he waited for Doogie to do his business outside. He would soon find out...
Little Doogie doesn't like the rain, either.
***
The next day, Amara came home with coloring pencils and crayons and had Chima help her with a poster she planned to put up around the neighborhood. She always seemed to have much more patience with other kids when teaching them piano. She never understood why she didn't have the patience with her own. Maybe she expects Chima to take quickly to the piano like she did as a child.
He left Amara to deal with the errands she'd marked down on her 'To Do List'. SimLord knows, if she doesn't mark it down, she'll forget it.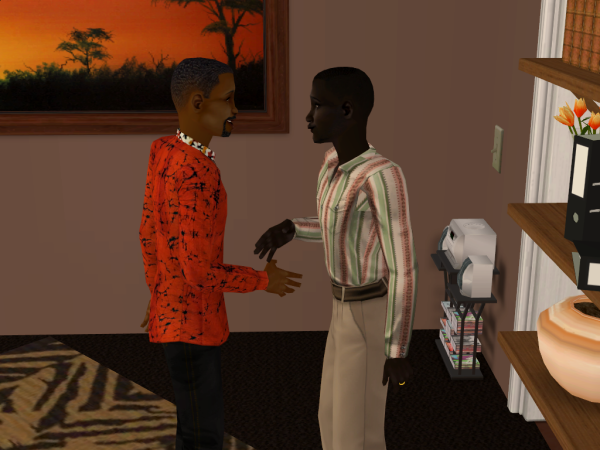 ***
Amara chuckled and told the nice woman if she knew of any one interested...she's giving piano lessons.
Maxine read the poster and asked her if she was planning on having the lessons at her house. Amara nodded her head. And Maxine wrinkled up her nose a bit and looked away. Amara was kind of taken aback at the woman's expression and looked at the poster again. She figured out the possible issue.
Until that moment, Amara hadn't considered where she lived. Most parents probably wouldn't want their child spending time in that part of the neighborhood. She started to snatch the poster down, but what would that say to Chima. The little guy worked so hard on it. Oh well, it's done now....she'll wait and see if she gets any phone calls.
She asked the lady if she knew where the Board of Education office was, and Maxine asked her if she was there to enroll her son into Camden Park Elementary...Amara confirmed and told her she'd heard that the private school system in Simmington Hills was the best there was.
Maxine then formally introduced herself as the Education Director; that she'd be happy to talk to her upstairs in her office.
***
After his first day of school, Chima brought home a friend...yep, Emely Blair. Looks like her parents don't mind where they live. Maybe Emely will be Amara's first piano student...? We shall see.
It was such a darn struggle for me to get started with this household, but it became surprisingly easy to get into them once the story started unfolding before my eyes and in my head...

Lesson learned:

Just play the darn game and see how things fall into place.
Random Pics:
Poor Ashanti grew up into a child all by herself. She had gone into her parents' bedroom as if to say, "Look at me. I'm all growed up." LOL!
They're snoring away; oblivious to the poor girl.
Front view:
I caught these pics after I noticed Ashanti's thumbnail had changed on the UI. I had no idea it was so close to her age transition, it was not my plan to have her age up until another year or so. I'm still getting used to manipulating the ages for my kids. A lot of my kids' ages are totally off base...so please overlook it.
Makeover Pic:
She's really cute to me now. You might notice that Ashanti likes a totally different favorite color aside from what her parents' like; much like Charles Wise and his immediate family. I take whoever the Sim is closest to at their age transition as being influential in what the child likes. Charles was closest to his Aunt Lydia, at the time, so he likes Brown instead of Red or Beige.
I imagine that in South Africa, toddler Ashanti spent a lot of time with her grandmother or some other relative while Kofi and Amara worked during the day...this relative loved the bold color of electric blue or 'electric ultramarine' as Wikipedia calls it. :P So that's why she's got a different color preference than Celadon or Razzmatazz. (I roll a ROS for my adults' favorite colors.)
***Is this dress mesh supposed to lay like that around her collar? My game does weird things to different Maxis clothing meshes, like some of the H&M stuff. I still can't figure out what's causing it.