Maxine
is 36,
Jacques
is 40,
Christina
is 14, and
Charles
is 12.
Don't they smell it?
Jacques thought to himself. A huge turnout didn't look too optimistic on this night.
The Jazzmasters
have been slated to play at The Cage 2 nights a week, at $400 per night; with Jacques and Maxsim VanHouten splitting the simoleans between them. Their first gig will start some time before the end of the simyear. Jacques was really wanting to find more members for the band first and needed a little more time.
The club agreed to increase their pay once they added new members. It was an agreement Jacques made clear from the start. He's been looking for 3 more members, a guitarist, a singer, and a drummer but it's been going slowly. Public auditions were held for 2 weeks, with disappointing results. Just as Jacques thought, only a few Sims showed up to audition on this rainy night.
This guy in the gray shirt sang in a whole different key than what they were playing in...truly disappointing.
It's better to try and fail, than to have never tried at all.
" He's Maxsim's brother and Keva's teacher. Steve came out to show his support. He's been in favor of Maxsim joining a band since they moved here.
***
Maxine Wise adores Steve and his teaching style. He's got a very laid back but stern way with the kids, and since they both live within walking distance to the school, Steve walks Maxine home across the street and they chat sometimes on the sidewalk.
*On this particular day, a dog came up and sniffed, then growled at Maxine's butt! LOL!*
Christina and Charles had brought their own company home from school. Tyisha Masters and SayJ Cunningham were in the backyard playing.
Apple Valley lady that came to camp after the hurricane
and sang that song. "
You remember?
" She asked Tyisha. "
OHH Yeah!
" Tyisha started singing the song, "
Ehhh-verything will be ahhhl-right.
" She seemed ok after that. At least it shut her up for the time being.
***
Jacques had gone to the Fresh Market to pick up some tomatoes for the party at Maxine's request. Maxine wanted to impress her guests by serving fresh ingredients. Emerita Valdes isn't the
only
one that can throw a great party. At the same time, Maxine would be silently giving kudos to Sergio Spencer for planting such a successful crop this simyear. He'll be proud.
As they were talking, Kimberly noticed Ray Wilsonoff came in and mentioned it to Jacques. "
Oh! I see Lydia's fiance just came in. How's she doing anyway? I've got to call her. It's been awhile.
" She said smiling.
Ray Wilsonoff, where have you been?! I've been trying to call you!
" Erline grabs him and starts shaking the mess outta him, right in front of Ray's soon-to-be brother-in-law. Obviously, she hadn't heard the news or she didn't care.
were
true.
Ray pushes her off of him, but not fast enough in Jacques' eyes...he tells her she's way outta line. Jacques is waiting to hear more anger in Ray's voice. Give her some bass in that voice or
something
. But he didn't. He seemed far too caring of hurting Erline's feelings.
While Erline was straight going off on Ray, he was busy trying to lecture her in a calm and easy voice. It angered everybody within listening range. And believe me everybody was listening. She's whining and infuriated because he won't return her calls!? Are you kidding?! Even Orlando Centowski, Erline's first crush,
was happy he never went for her
. By the looks of things, she
is
trouble, like he first thought.
Nobody
, he doesn't care who they are, hurts his princess and gets away with it. He even stopped updating the website for a bit of time.
What is Ray's problem? Why won't he nip this whole thing in the bud? He's getting ready to marry Maxine's sister, for goodness sakes!
Didn't you get the memo? I HAVE NO MONEY.
" Well, Jacques is beside himself at this point. Does this chick seriously have the balls to be blackmailing Ray for having sex with her?!
Then as if all of this was a dream, Ray turns around and gives the most feeble sounding, "
Hello
" to Jacques.
better
be revealed before he plans on stepping foot down that aisle next month. Ray lied and assured him that he and Lydia have talked, and that it's just a misunderstanding between him and Erline. She's only 18. She doesn't know how to control her emotions, everything's okay. All the while, Erline has this smug look on her face. As usual...
Jacques is just seething out in the car. He grabs the steering wheel and wrings it tightly as if it were Ray's neck. This whole situation puts him in a crazy position. He doesn't know what he's gonna do about it. As he sits there, he decides to go get a drink before he heads home...but he better make it fast. Maxine needs those tomatoes.
Back at the house, the rain has stopped. And Ray peeks through the door to see if Jacques is there. Maybe he put his car in the garage. He's angry that Jacques made the situation worse by yelling at him in front of Erline, but he understands why. He just needs to explain everything to Jacques so that he'll keep it quiet from Maxine and Lydia.
Heya, Uncle Ray!
"
Ray turned around and is greeted by Christina, who he didn't even see shoveling out in the front yard, in his haste to get to the front door.
"
Mom and Dad are out running some errands right now for the party. Are you coming?
" Ray nodded to affirm. "
Well, they'll be back soon, why don't you come back later?
"
***
Maxine took out all the ingredients she needed to make her tomato, basil and mozzarella salad. It's so good, maybe she'll submit it to the
Culinary Group
.
***
Simmington Hills 25th Anniversary snuck up on everyone, pretty much. Maxine Wise thought it would be foolish not to celebrate it. 25 simyears of existence is a milestone, and all the hard work that has been put into building this hood took lots of planning by the very Founders she's invited to her home. Everysim has a part to play in this hood's success. Even the sims Maxine doesn't particularly care for. Marisa Bendett springs to mind.
Marisa has become The Hills' top socialite despite her gaudy appearance and salty language. Party-hopping and party-planning has become Marisa's way of living. Not only is she a column writer, but she also writes THG,
The Hills Gossip
column, in
Simmington-Times
newspaper. Maxine has to be honest, she's hoping for a favorable review of her party. Her social reputation is now at the mercy of a girl she once despised, although she plans to give Marisa a personal apology
for her behavior the last time they saw each other.
Even though she's not expecting one in return.
Here she is shaking down the 1st Lady for a raise in her fiance's, Seth Guthrie, salary at the jail.
Debt-Ridden Sim Receives Mysterious Check
"), but she feels there's more to him than meets the eye; not to mention how extremely handsome he is.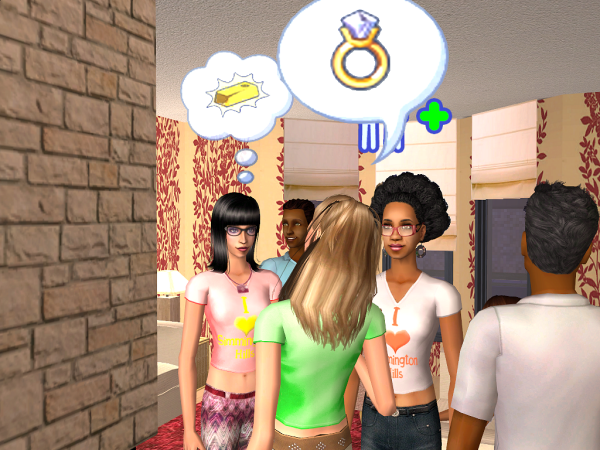 "
I was wondering how long it was gonna take you to come over here, Maxine. I'm not here to have any beef with you. I don't need your snooty attitude tonight.
"
Now, wait a minute! You're in my home, Marisa. That's not why I came over here!
" Maxine pointed at Marisa. If anything, this joke of a woman should be coming to her.
I just wanted to tell you how sorry I am for judging you without getting to know you first. I had no right to do that. But I think the situation worked out perfectly for you...I mean look at you now. Your position at Simmington-Times is just perfect for YOU! Congratulations on that!
"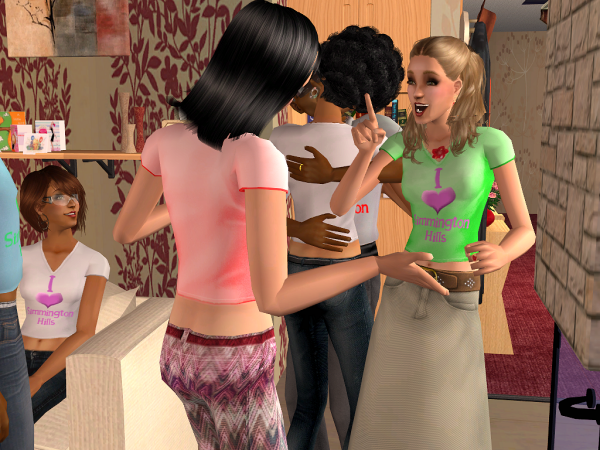 Marisa smiled through clenched teeth, and accepted Maxine's apology. She knew it took a lot for that snooty bitch to say all that.
And why did she put such emphasis on the job being perfect for me?
Marisa wondered, realizing it still mattered what this woman thought of her. It's the truth, shit, the job
is
perfect. Marisa shrugs it off and goes to turn up the music.
***
Jacques made sure to pull Lydia aside and whisper to her that he had something to talk to her about later, the party wasn't the right time or place for that. He hopes she will make some time for him before the wedding.
In mid-sentence, he was silenced.
***
Tomika Cunningham chatted with Keith Dalton about the beautiful renovations on the Mayor's Mansion, and congratulated him again on his Oscar Winning Design award. While the Michels' need to go get a room obviously...they almost fell onto the couch with all that kissing and making out!
"
Come on, man...lay off the beer Cam. You just had a heart attack. I know you're upset but you don't need to drink this much, it's not gonna solve anything. You know how kids are Cam, that's why they're kids.
" Sabien's pleadings didn't do anything to help. He just couldn't find the words to help Cameron. His son had made a decision. He wasn't gonna apologize for it.
We're cool right? You still my dawg? I mean, what's up? Come on back into the party, man. If Trinity sees you in here, she's gonna flip out.
"
"
Yeah, yeah...I'll be in there in just a minute. We're cool, Sabien, just let me get one more. I'm fine
." Cameron is already a little drowsy and needed help getting up.
What is going on
? She wondered. (Everyone's so wrapped up in their own issues, they missed the fact that little Charles Wise grew up while the party was going on.)
Is there anymore beer in here?
She asked herself.
"
SMUSTLLLLLEEEE!!
" Someone yelled from the other room. It sounded like Marisa.
The popular song started, "
The Cha Cha Slide
" *
Please take a listen to get into the party mood, too!
*
Everyone scrambled into the room.
"Back that thang up, 'Mika!"
Cameron shouted.
And she did. She backed it aaall the way up and they were gettin' down!
Music: 'How low can you go? Can you go down low? How low can you go?"
I turned away from the computer for a split second. Honest.
Then I heard it.
WTF?!!
The commotion cleared the floor.
OMG!!
I started counting heads immediately. Who the hell is missing?!
TOMIKA AND CAMERON?!!!! What the hell happened?!?! I'm wondering to MYSELF.
Tomika is dusting Cam's ayazzzz all over the place. LOL!
Maxine looks on in horror. She's glad she doesn't have a coffeetable, otherwise it'd be broke by now.
more
than outraged, but he's trying to hold it together.
I'm still wondering what the hell happened!?! Aren't you?
Marisa swears she saw the whole thing, and you can get the juice in her
THG column
(scroll to the bottom)
.
***
The next day, Maxine goes to help Christina get ready to leave for
Riverdale's Camp Kick It
.
"
So you ready to go?" She asked Christina. "I'm not ready for you to go."
This will be the first time her daughter has ever been away from her.
Well, I'm trying to figure out what I'm going to wear. I think I'll just wear a t-shirt and shorts.
"
"
Why don't you wait 'til you get to the camp? It's a little chilly outside.
" Maxine suggested.
"
I won't feel like changing clothes; there's no telling what we're gonna do once we get there.
"
Leave your jewelry here, I don't want you to lose it."
Maxine quickly wiped her watering eyes.
"
I want you to be careful while you're there and never leave the group to go off by yourself, ok?
"
Call me when you get there, honey!
"
Maxine and Charles piled back into the cab to go finish cleaning up last night's mess and crawl back into bed.