Steve VanHouten
is 24,
Rashid Cunningham
is 18,
Elmer Valdes
is 18,
Erline Valdes
is 18,
Sierra Spencer
is 14,
Tyisha Masters
is 14,
Keva Michels
is 12, and
Christina Wise
is 12.
The crew started working in the early morning hours on the weekend. The trusty janitor, Frank Mulner, pulled up in his light blue hatchback, just before sunrise, to unlock the doors.
As you can see, several desks and chairs were added to the main classroom. There's also a new computer room and garden storage area (located behind the cafeteria). The next set of renovations will possibly be to add a second-level auditorium. It's not been approved, yet. We'll see if the BoE deems an auditorium necessary.
***
The last sessions of school, before senior graduation and summer break, are always kind of informal and relaxed. The kids get half-days due to teacher in-service meetings. So, when notice was sent out to each family that year-end class pictures were due, everyone was happy that classroom time would be interrupted and the day would end earlier than usual.
No one had even thought about Erline Valdes. She was a senior, so why wouldn't she come and take pictures with the rest of her classmates?
She had missed so much of the schoolyear because of her pregnancy...she had basically become 'out of thought/out of mind' to a lot of her so-called friends and fellow classmates.
Yes, they were all surprised to see Erline show up on the last day of school. Most of the kids thought she had moved out of state until her baby was due. Kind of like a family 'hush-hush' thing. But now they see that rumor wasn't true. She must've been hanging at home; keeping to herself, all this time.
Sounds of the students' snickering and whispering bounced off the walls because of the deep echo in the hallway. Their words and jokes could no longer hurt her. She was facing something they knew nothing about...childbirth. She was carrying a real baby inside of her and it was coming, despite herself and despite them all. No, there's no turning back. Motherhood for Erline is truly at the horizon.
She silently cursed them as she made her way up to the one true person she came to see in the first place.
Tyisha was so hurt and angry, she couldn't speak. Tears welled up in her eyes as Melody asked her not to be so overdramatic about the situation and to calm down.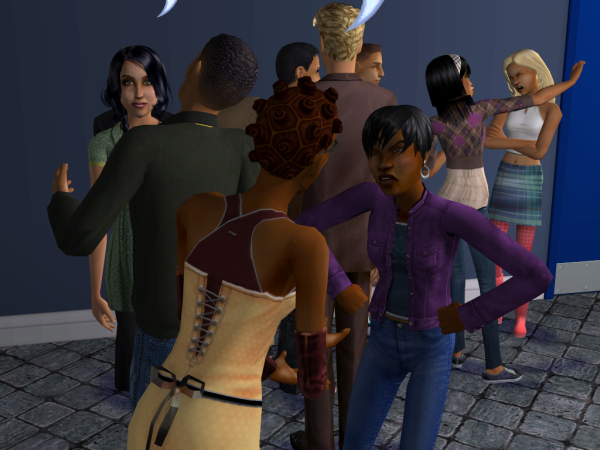 Meanwhile, Erline asked Rashid if he still had feelings for her.
Despite their tension, the kids were able to smile brightly for the camera.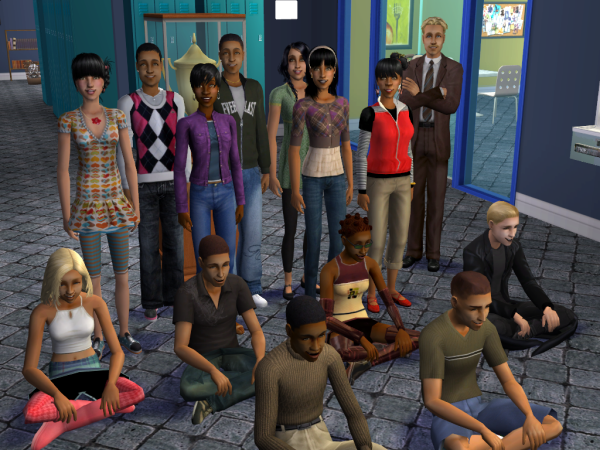 Later that afternoon
***
If Erline was not pregnant, and if she wasn't Cameron Masters' daughter...Tyisha would be all over that witch like peanut butter and jelly. That hamburger would be shoved so far up her face, she would still be eating that same sandwich next week!
From the other side of the room, Rashid saw Erline taunting Tyisha and he had to go over there. He had hurt her real bad, and he didn't mean to.
Keva Michels and Elmer Valdes gather around in case there's a fight. Keva did not want to be involved, and slowly walked over there to grab Tyisha, just in case...and Elmer was there to protect his twin sister.
But, they needn't have bothered...Rashid was just being a gentleman. He swooped in to take Tyisha's plate up to the counter for her.
While holding a note in his hand...
He dropped it so quickly into Erline's plate, no one had even noticed the tiny little balled up piece of paper had left his hand.