Maxine Wise
, is 37,
Charles Wise
is 12,
Sabien Cunningham "SayJ", Jr.
is 9,
Terris Dalton
is 9,
Terryn Dalton
is 9,
Emely Blair
is 9,
Shaun Spencer
is 5, and
Tyrone Masters
is 4. (Frank Mulner, Janitor/NPC, is 38).
The halls were mopped, the water fountains cleaned out, the trash disposed; everything was in its proper place and ready for the spirited primary students to burst through the doors at any moment.
Maxine Wise ends her 2nd simyear with a fuller class than usual.
It was decided over Spring Break that students from Bluewater Village Township and other outlying areas would be able to attend Simmington Hills' prestigious private schools, if they wanted to. Their parents are required to pay the same $1,000 tuition fee each school year as everyone else.
Some kids introduced themselves to the new students, and some of them caught up with their old friends and talked about what they did over Spring Break.
The school bell rings and the children quietly file past their lockers into the classroom.
Maxine noted how impressed the kids were with their new, larger classroom, and she was quite pleased. The changes were subtle but the kids noticed right away. The Administration had dispersed simoleans to the Board of Education for some school renovations.
Before the students got too unruly, she had to keep them focused on the task at hand; knowing they wanted to explore everything. They retrieved their textbooks and finally got settled into their seats.
This was the first time the teacher didn't have to force anyone to pay attention. They all read quietly at their desks. It must be the new room, she smiled.
By the time the afternoon class ended, Maxine and her students were a bit more relaxed and ready to take a break from all the studying.
Maxine watches her kids like a hawk, and from the table she stretches her neck to make sure Frank doesn't bother trouble-maker, Chandler Platz; who goes to the refrigerator despite Maxine telling him not to.
Maxine shoots a glance over at her son and sees his face. She immediately knows what he's thinking...
***
See ya next simyear, CPE!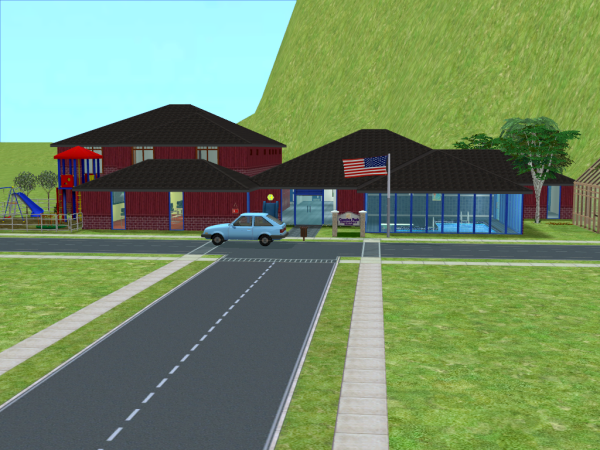 ---