38 simyears old:
My latest pregnancy was never ending. I don't know if it was from the stress of causing an uproar in the community when I mailed that
letter to the Judge's office on Simday 16
causing a huge blow up in Simday's Paper. Judge C was practically hung out to dry about his response. I certainly didn't mean to fuel a slant campaign towards our future Mayor.
Well, I knew my baby was due around Simday 13, but that day came and went.
Dr. Dalton advised me that I was being too active, not gaining the necessary weight I needed to advance. In turn, the baby wasn't gaining the weight it needed either. Although it was healthy, we expected the baby would be small.
I needed to relax, but there was so much to do. I wanted to throw a birthday party for Tyisha. With Cameron at work all day, it was up to me to keep up with the household as best I could.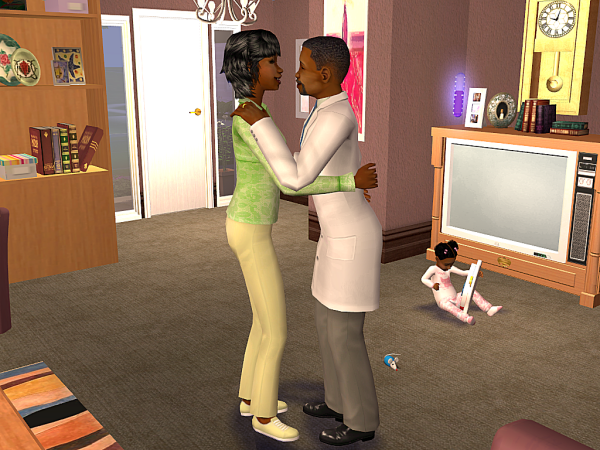 I tried to relax when he got home from work in the evenings, but so much was running through my mind. I needed to buy a table and chairs for the party, balloons, food...what was I going to prepare that was easy enough, but hearty enough to fill everyone's stomachs?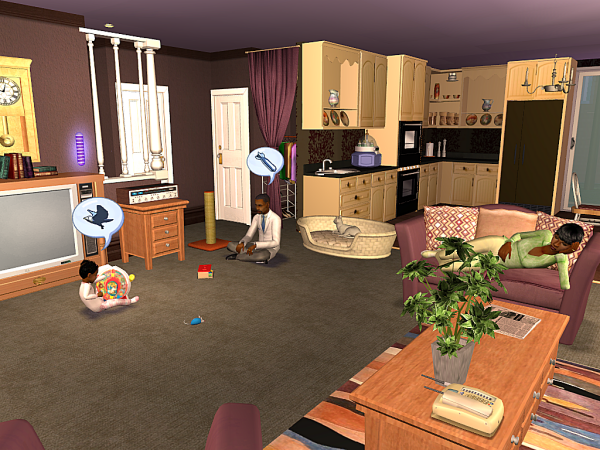 And, forget my little tomato garden outside. I would be surprised if they even turned out
edible
. My apple tree and tomatoes have pretty much gone rotten with neglect. Do you know that we got hit with ANOTHER $2,000 garden maintenance fine this period?! That's just money thrown away. Well, not thrown away, it does help the Administration...but, still. We're gonna have to do better. We don't have loads of money to give away.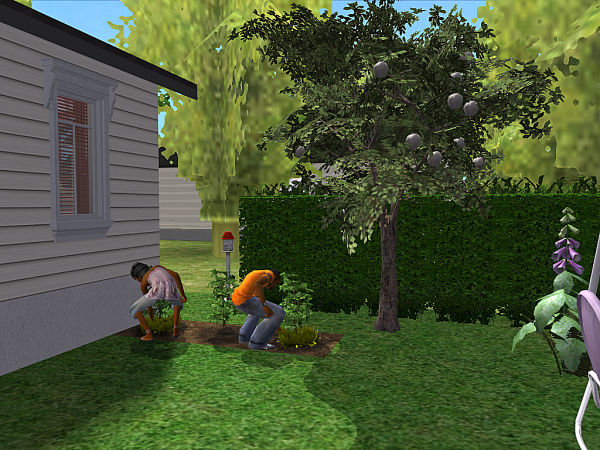 Our beautiful daughter, Tyisha, deserved to have a birthday party to celebrate. She's our firstborn which makes her special, and she knows it. We have SO many pictures of this child displayed around the house.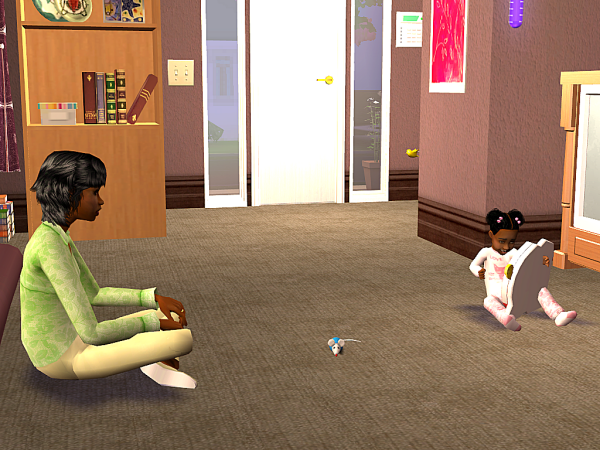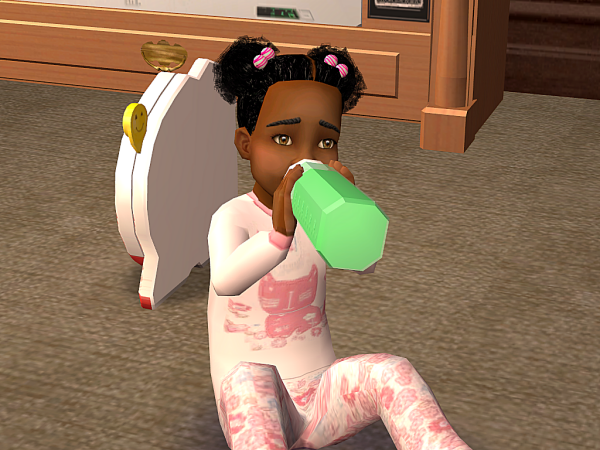 It helps that my Yard Sale was semi-successful. The money we made from selling Cam's hideous 70's furniture, will help me throw this party.
I tried to think of a present that Tyisha would appreciate, and since we're all so attached to Princess, it would be nice to get another cat for Princess to play with. Maybe even have kittens with. I know the house is small and cramped, but it's worth it to have another cat around.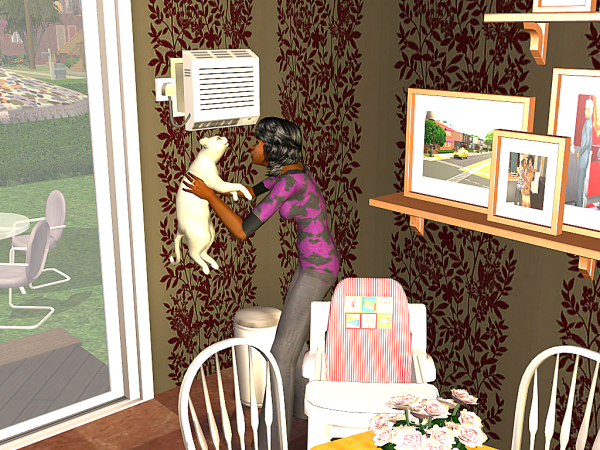 ---------------------------------------------------
The day of the party, I was outside most of the day arranging everything. Trying not to get too distracted, but Princess and Tyisha were having so much fun, I had to join in for a minute.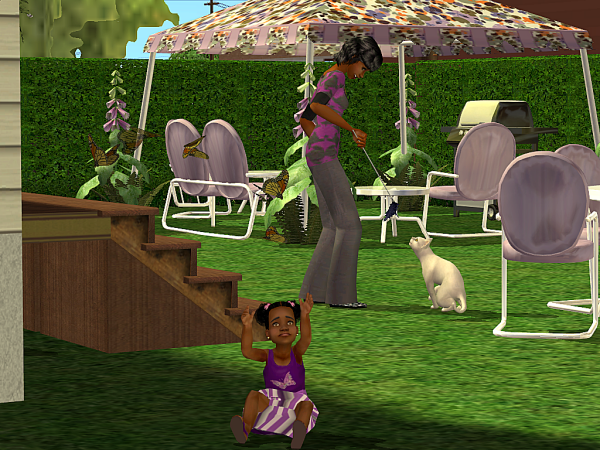 I couldn't have asked for better weather. This Spring has been filled with thunderstorms, almost everyday. Tyisha brings sunshine to any situation, so her birthday was going to be beautiful, I could tell.
All our friends started showing up: Tomika and her boys, Rashid and Marchon, Emerita, Honey and Keva, Sierra Spencer, and Trinity. You ask, "Why was Trinity invited?" Well, she's my doctor. And we're friends. Cameron was the one hung up on her, not vice versa. And he's cool about it now. I forgave him for ditching me for her a long time ago. We know if either of us steps out of line there are two penguin costumes in the closet just waiting to see the light of day again. LOL!
I got a call from Erline Valdes in the midst of greeting everyone. She called to say she and her twin brother, Elmer, wouldn't be able to make it, but their mother was there to represent. That was really thoughtful. We love the Valdes' because they were our neighbors over at Cedar Two Flats. We've become great friends. 'Rita also works with my husband on the website, taking the Census information.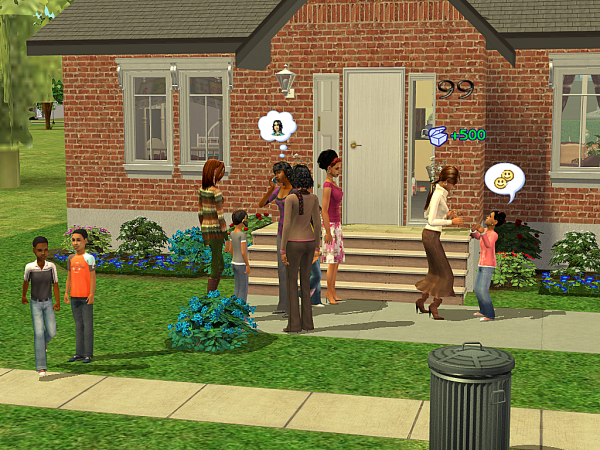 We also had the kids, Charles and Christina Wise over, (CPS Principal/Teacher Maxine Wise's son and daughter). Maxine was invited but I guess she still has beef with me. We had a small altercation in SimCity. Nothing major so I won't go into it. Obviously, it was major to her though...she keeps knocking my trashcan over. Not very mature, if you ask me. I'm still not quite sure if I want Tyisha to attend her school. Of course, Cameron doesn't want to hear it. He's trying to mediate the situation.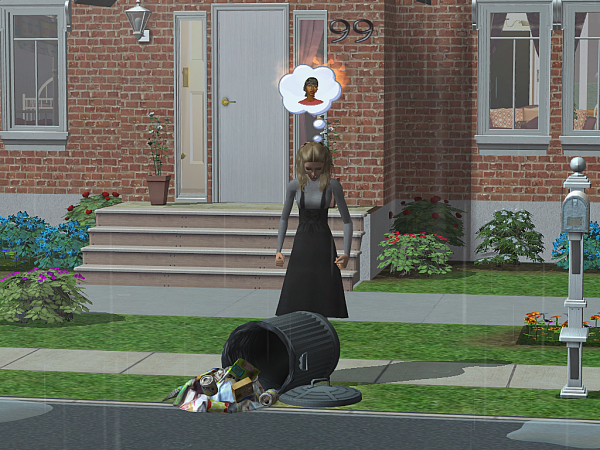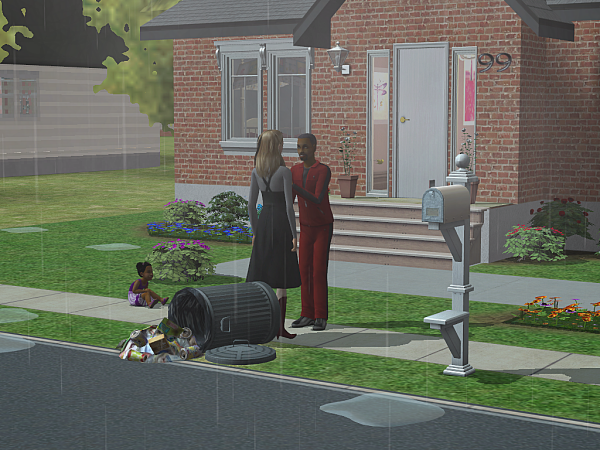 True enough, Tyisha needs to be in a better school to prepare her for college, and CPS is equipped to do that. *I'm gonna get Cam' for having my baby out in the rain!*
--------------------------------------------
I ended up serving a spinach quiche for the party. My first time making it, and I guess it wasn't that good 'cause nobody ate it.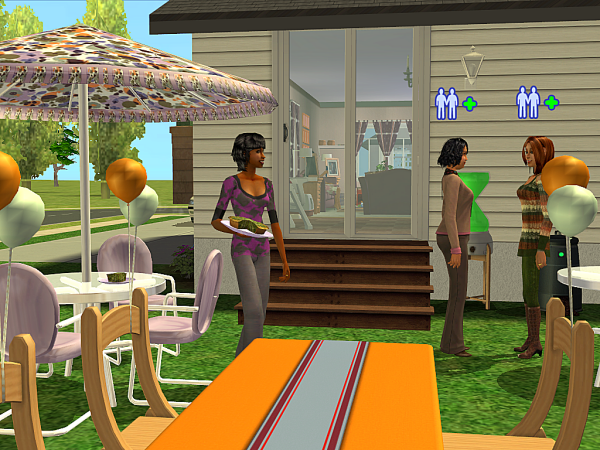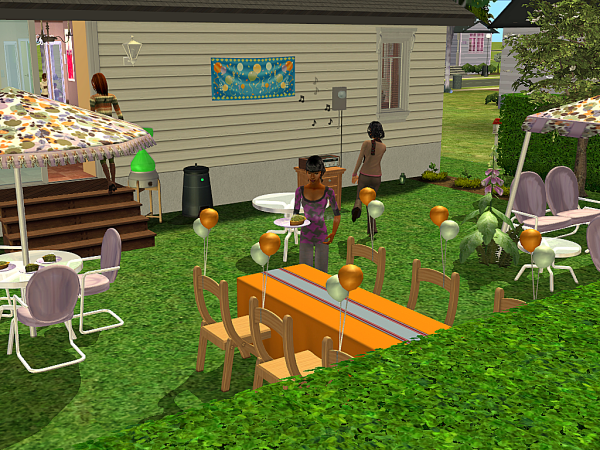 Even though we put our dining table and chairs in storage for the party, people were in and out our refrigerator eating snacks all evening. Refusing to come near my spinach quiche!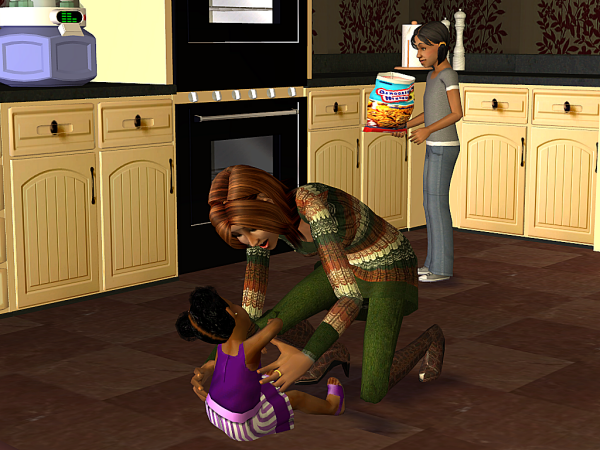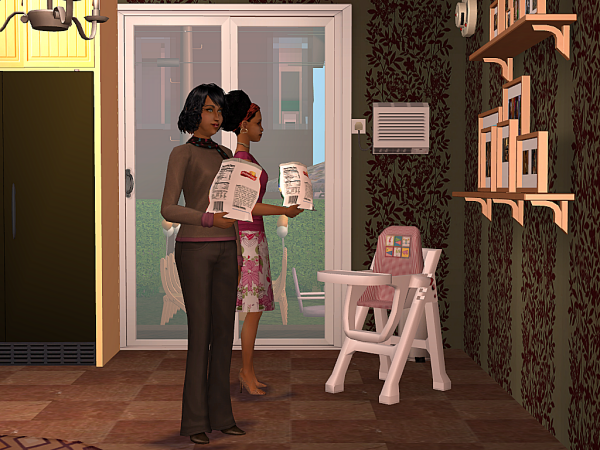 That didn't matter in the end. They were all there to share in our special day.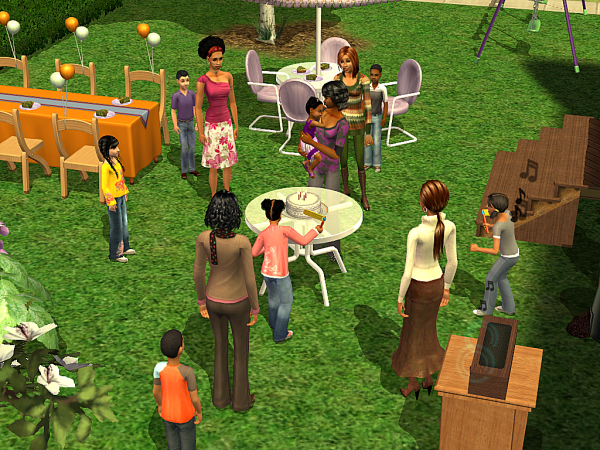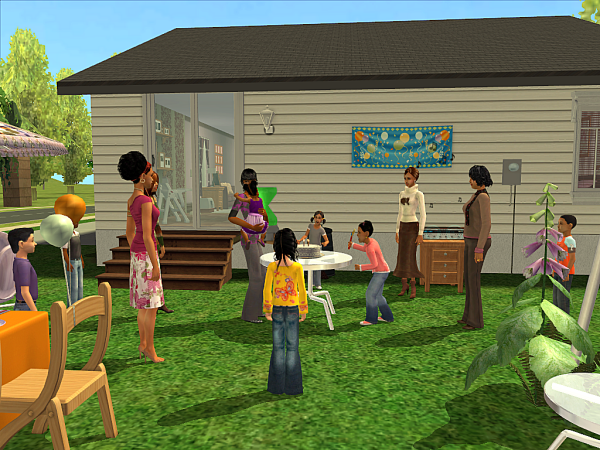 My baby grew up! Too bad her father was at work and missed it.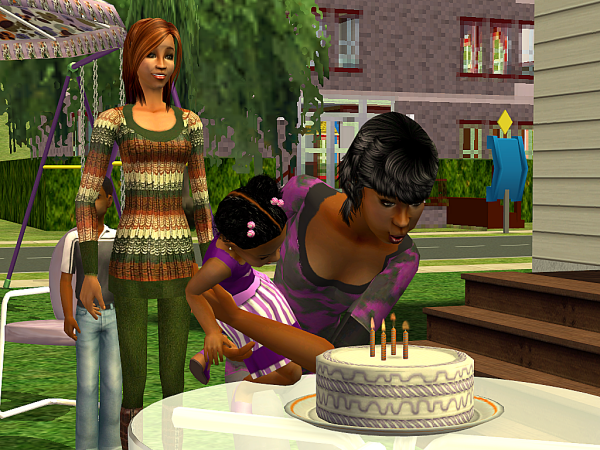 We did her makeover as soon as she finished her cake. She was ready to shed her baby girl looks.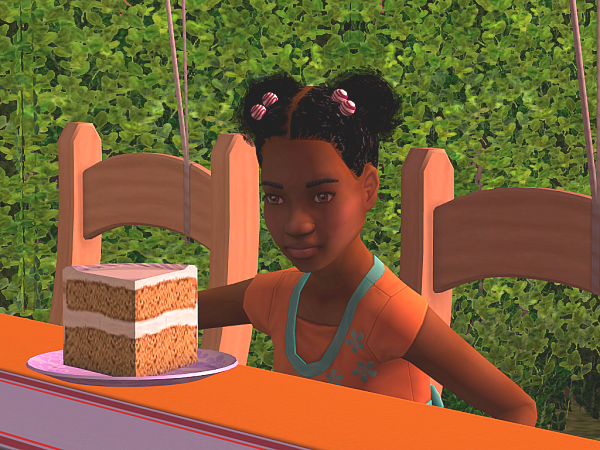 Isn't she gorgeous? Looking just like her Daddy!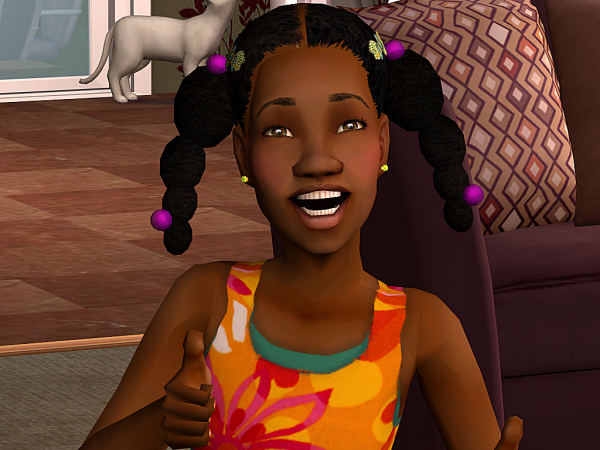 A couple days later, Tyrone was born. Much to me and my doctor's delight! Thus ending the longest pregnancy in SH so far (Simday 11 to Simday 20). He weighed 4lbs, so Trinity had to keep him in the hospital for a short while. (The Simday's paper reported a couple days, but it was only for a few hours.)